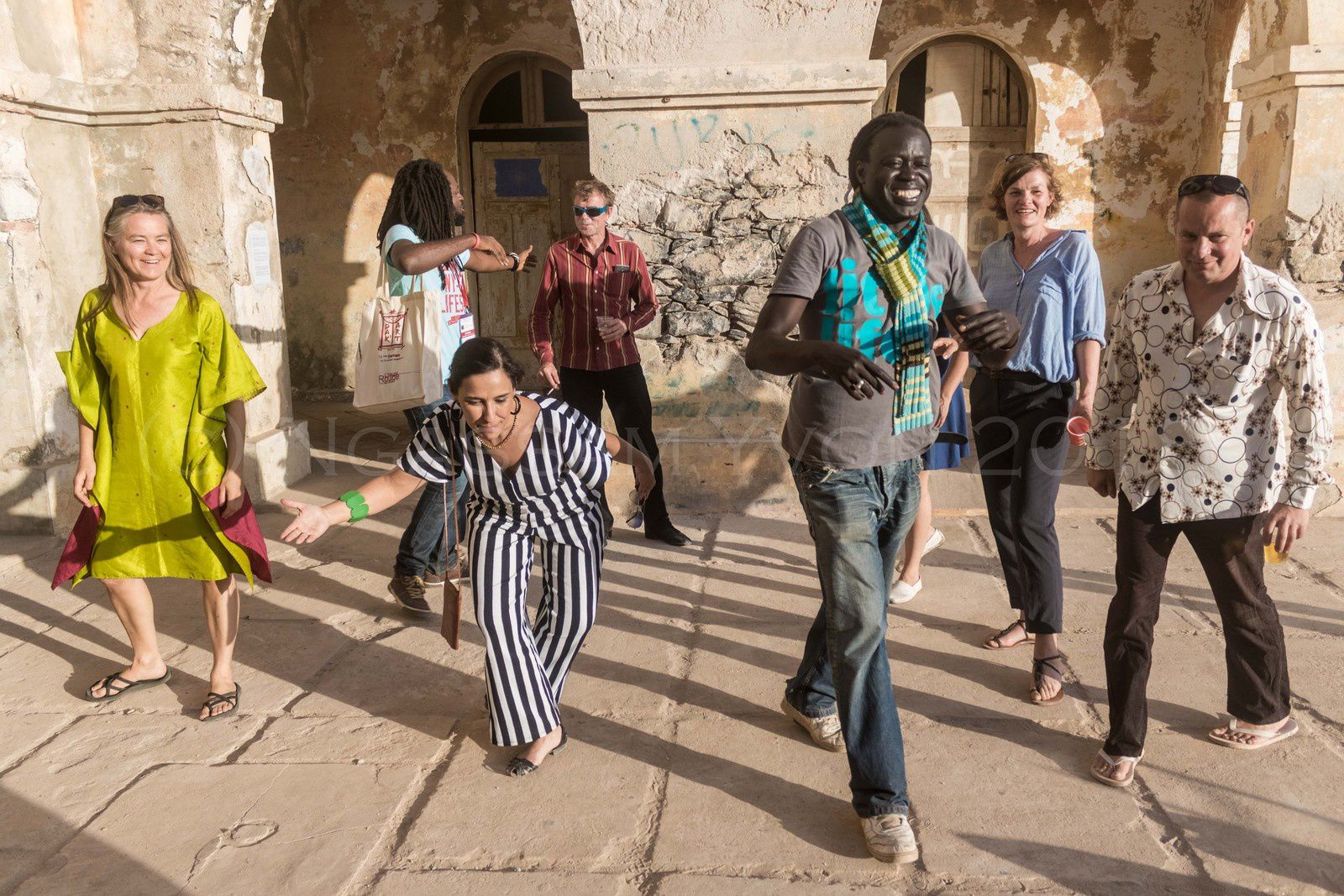 Verson française ICI
Dak'art 2018, 13th edition of the African Biennial of Contemporary Art was for me an extraordinary adventure ... a human adventure.
Human because every step that I went through to be there was possible thanks to the generosity, the kindness ...
At the base of the pyramid was my meeting with this extraordinary place called "#Les_ateliers_Sahm" who offered me my first experience of the biennial Dak'art off in May 2016. Its founder Bill Kouélany seeing what moved me during our visit on the island of Gorée offered me a residence under the direction of a person who became with time a big brother: Corentin Faye aka Mister Co. I spent 3 weeks in November 2016 on the island of Gorée and I met Aissatou Ciss, a young girl passionate about art and extraordinary generosity. She agreed to follow me in the freezing nights on the island to pose for me. I worked for 3 weeks from 10pm to 4am while some in Cameroon thought I was pilling myself on the beach. I remembered not having enough money to live at my ease. Mister Co and his family took me under their wings. They consider me one of theirs, a CISS, I am honored.

The visual corpus of the series "I'm not a slave, but I'm ..." in hand, I had to attack the writing of the text of presentation. I sent the portfolio to a small panel of curators, art critics, well-known or not, and ordinary citizens. I was in dialogue for 3 months with some people to find the right words for my statement. I think of the various appointments with Ange Tchetmi on Facebook who for a week, every night discussed with me and felt the argument of my work. The emails that I exchanged with Akire Simin, which challenged me to check the historical facts that I quoted sometimes without contextualizing. I remembered the remarks of Christine Eyene on the title of the photos that I took into account and that work very well today. I could not name everyone. May they find my gratitude here.
This collegial work like the image of the construction by the villagers of the house of one of theirs was a human experience and allowed OUR work to be retained in the official selection of the 13th edition of Dak'art.
A preparation on a human scale. A strong desire of the elders to accompany me in this adventure materialized by the design and the production of communication media that Landry Mbassi of #LOCO and Rodrigue Mbock of #GlobuleStudio offered me.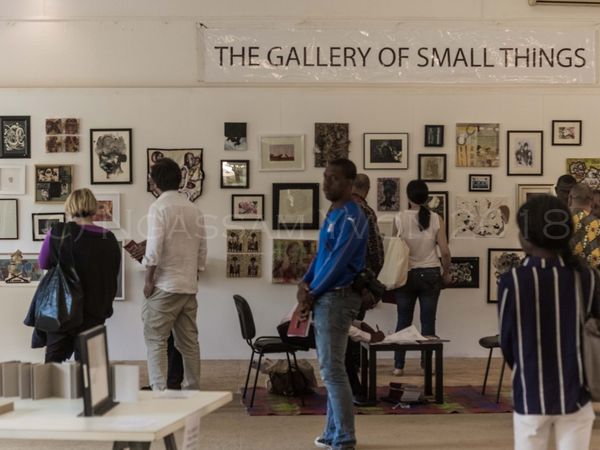 Gallery of small things a project of curator Olabisi Silva where you could see an excerpt from my series "HOME"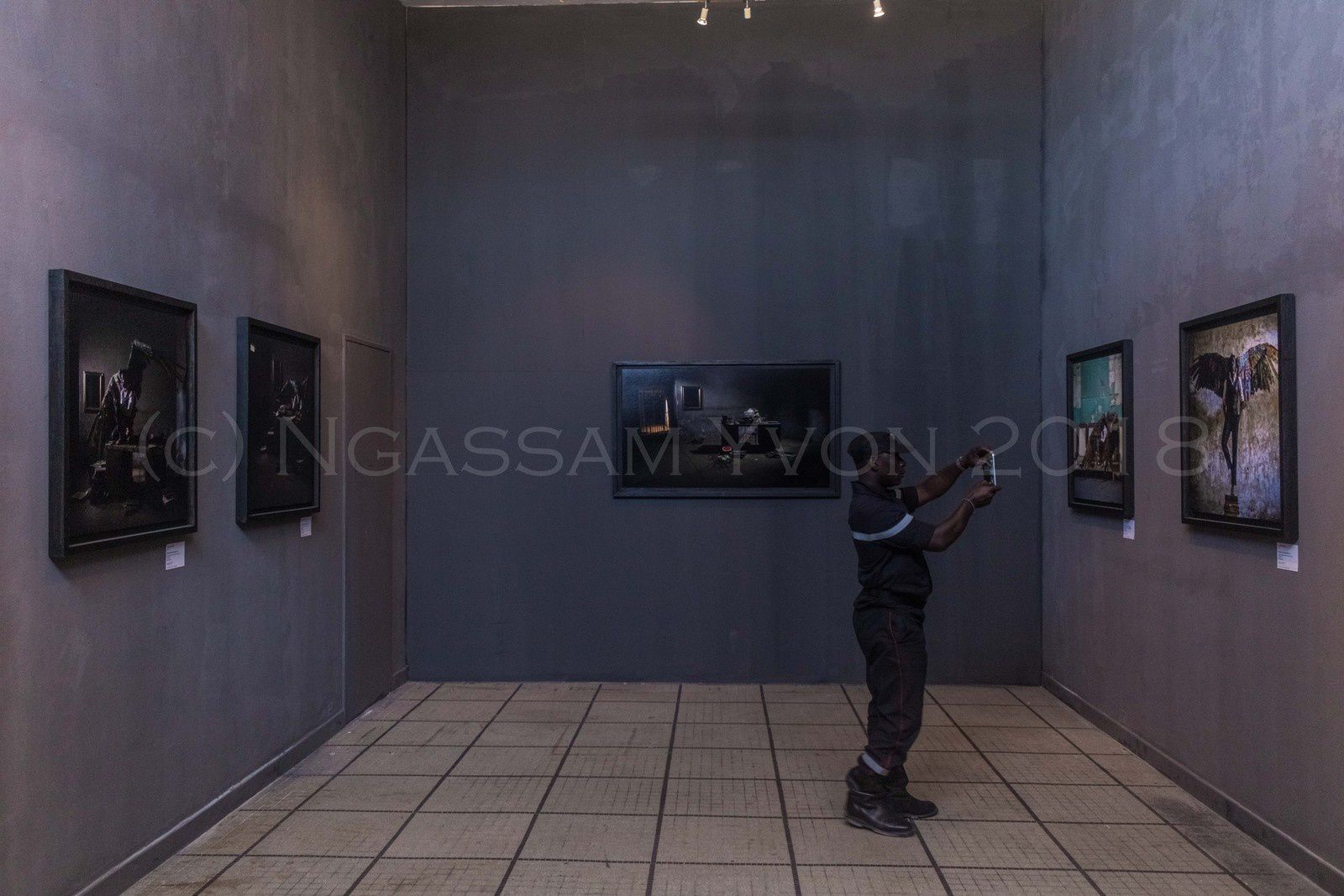 My stay in Dakar could have been difficult because the organization must be said had priorities that were not always in line with those of artists. I will come back to it in another post. The Bandjoun Station team through its director Germain Noubi, Barthélémy Toguo and Carine Djuidje was a refuge for me. I remember that night spending time in their headquarters enjoying Mr. Toguo's experience. I preciously keep the moments spent with my elders (Omraam Tatcheda Guy Woueté, Sarah Dauphiné Tchouatcha, Joel Mpah Dooh) discussing the art and taking advantage of the advice they gave generously.
It was a real, sincere and generous human adventure. I did not forget you who gave me strength every day by encouraging me through social networks. You who without knowing me share and relay my information. A special thank you to my friend Marcelline Mbogo, Marius Jidé Dakpogan, Seshie Kossi, Harold Kuassi ... Thank you all because you are dozens to accompany me.
The human at Dak'art was also these unlikely encounters. The opportunity to hug a virtual friend: Oumou Diarra, Bijou Sylvia Somba, Isaac Sahani Dato, Lebon Chansard Zed,@Tobe Geraldine, Mariusca Moukengue, Abdou Diouf Ndiaye ...
Art is human.
Thank you humans.
#Dakart18 #TheRedHour #LheureRouge #Thankyou #Merci
Selected pieces of the collective exhibition "Letter to Africa" on the island of Gorée off Dakar, Senegal.
A visual testimony of my experience as an official guest at the Dak'art Biennale 2018. My favorites and the projects in which I also participated in the OFF programming.
Pour être informé des derniers articles, inscrivez vous :